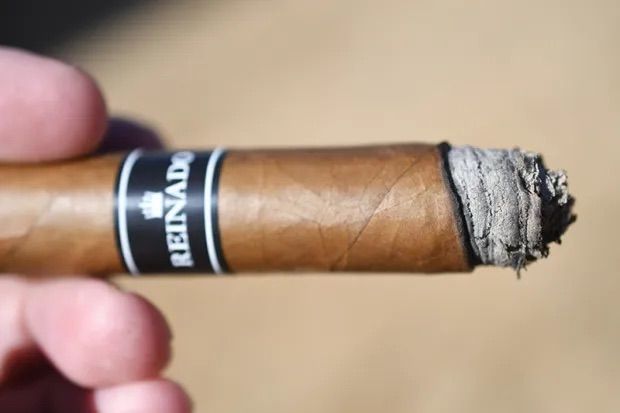 NAME: C29 by Reinado Cigars 
DATE: 2-5-2023 
RATE: 92 
PRICE: $10.00 
STRENGTH: 1  2  (3)  4  5 
REVIEWER: Aaron M. Paoletta – www.lavegalounge.com 
To date, there is only 1 cigar by Reinado that has been put in my books and I believe it was in my last book. The Grand Apex Gordo 6X60. Now, the Grand Apex Gordo was sent to me by Reinado founder, Antonio Lam. The interesting part is, he reached out to me on Instagram in messenger and asked if I would review it. After I agreed, I actually told my wife that I thought it was a scam. Low and behold, a week later, 2 of them showed up at my door. 
After tasting the Apex and giving it a rating of 91, I went looking for more. Unfortunately though, at the time, Antonio did not have anything else released. Very recently though, I was strolling through Instagram and saw that he did in fact release a new cigar. This one however is a Connecticut wrapped cigar, which I really do not like and it's called the C29. 
Normally, at this point, I try to give some background on the cigar. However, the only thing I could find is the wrapper. It has an Ecuadorian Connecticut wrapper. The blend itself is a secret and is only known to Antonio Lam and his team. I can tell you that the tobacco in this cigar is aged at least 8 years and that the final blend was the 29th blend. Hence the name. 
Now to the cigar. The Aroma is very nice. It has nice subtle earth tones and a mild touch of coco. The wrapper itself is very, very smooth. There is not 1 vein and it looks like velvet. The dry draw is very nice and clear. It has notes of straw and cocoa, but as I light it up, I am hit with a very nice black pepper note along with some mild coco and dried figs. Half way through the 1st third the pepper dies down and a light touch of cinnamon comes in. The burn is clean and the draw is just fucking superb. As I get into the 2nd third, the cinnamon dies off, the pepper also goes on the back burner and some light bakers spice and coriander comes in to play. It is a very nice combo. And as I get to the final third, some dried berries come into the mix which rides out until the end. 
Anyone who knows me knows, I really do not like Connecticut wrapped cigars. However, I must now retract that statement. This cigar is a fucking BANGER! Such a fantastic cigar with awesome flavors and a wonderfully clear draw. I will defiantly be purchasing a box. The only thing that would make it better for me is if it was Box pressed.